Mo Cowan served as a United States Senator from Massachusetts from February 2013 to July 2013. He previously served as legal counsel and chief of staff to Governor Deval Patrick. Mo was appointed on an interim basis to fill the vacancy left by John Kerry. He declined to run in the 2013 special election. He is the Chief Legal and External Affairs Officer with Devoted Health.
Charles Curtis served as the Under Secretary, Deputy Secretary, and Acting Secretary of the U.S. Department of Energy from 1994-1997. He is formerly the vice chair of the United States Department of State's International Security Advisory Board, 2012 to 2017, and president emeritus of the Nuclear Threat Initiative (NTI). Currently, he is a senior advisor at the Center for Strategic and International Studies (CSIS.)
Richard A. Gephardt served for 28 years in the United States House of Representatives, representing Missouri's 3rd Congressional District, home to his birthplace St. Louis. He served as House Democratic Leader for more than 14 years, as House Majority Leader from 1989 to 1995 and Minority Leader from 1995 to 2003. Gephardt is President and CEO of the Gephardt Group, providing strategic counsel on federal government relations and domestic and international labor relations issues.
Gary Hart represented the State of Colorado in the United States Senate from 1975 to 1987 and was a member of the Committee on Armed Services during his tenure. Senator Hart was a candidate for the Democratic nomination for president in 1984 and 1988. Before retiring from public service, Senator Hart was co-chair of the U.S. Commission on National Security in the Twenty First Century, otherwise known as the Hart-Rudman Commission, an effort which warned of the danger of attacks on the U.S. homeland. He was Chair of the U.S. Department of State, International Security Advisory Board, as well as Chair of the U.S. Department of Defense, Commission on Threat Reduction, and the U.S. Envoy to Northern Ireland. Hart also co-chaired the Council on Foreign Relations task force on homeland security, which released a major report entitled "America – Still Unprepared, Still in Danger." Senator Hart has been a visiting fellow and lecturer at Oxford University, is a regular contributor to news media, and best-selling author of multiple books.
Mary Landrieu represented the State of Louisiana in the United States Senate for three terms, from 1997 to 2015. Prior to serving in the Senate, she was elected twice to the Louisiana State Legislature from 1979 to 1987. In 1987, she was elected State Treasurer and served with distinction for two terms. Since leaving the Senate, Landrieu served on the CenturyLink (Lumen) Board of Directors (November 2015 – May 2020); and currently serves on the Boards of Directors for Tyler Technologies and Evergy.
Judge Beverly Martin is a native of Macon, Georgia. She stepped down from the US Court of Appeals for the 11th Circuit and serves as the Executive Director of NYU Law's Center on Civil Justice. Prior to her time on the Circuit Court, she was a judge on the US District Court for the Northern District of Georgia and US Attorney for the Middle District of Georgia.
Ambassador (ret) Deborah A. McCarthy served as the U.S. Ambassador to Lithuania (2013-2016), Deputy Ambassador at the U.S. Embassy in Greece and at the U.S. Embassy in Nicaragua. In Washington, she was the Principal Deputy Assistant Secretary of State for Economic and Business Affairs, Deputy Assistant Secretary for Narcotics and Law Enforcement, Senior Advisor for Counter Terrorism and Special Coordinator for Venezuela. She was recently a Senior Fellow at Harvard University. Currently, she is the Senior Advisor for Cybercrime Negotiations in the Bureau of International Narcotics and Law Enforcement at the U.S. Department of State. She is also a non-resident Fellow at the Atlantic Council.
Mary McCord served as the Acting Assistant Attorney General for National Security at the U.S. Department of Justice from 2016 to 2017 and Principal Deputy Assistant Attorney General for the National Security Division from 2014 to 2017. Currently, she serves as Legal Director at the Institute for Constitutional Advocacy and Protection (ICAP) and Visiting Professor of Law at Georgetown University Law Center.
Joel McCleary served as Deputy Assistant to the President during the Carter Administration. McCleary worked on issues related to Presidential emergency powers with former Ambassador William G. Miller, who was Staff Director of the senate Special Committee on National Emergencies.
He has led projects for the Departments of Defense and Homeland Security regarding pandemic and biological defense issues and he conducted the first review of the former U.S. offensive biological and toxin weapons programs as well as prepared briefing materials for the U.S. Congress on the threats of assassination with CBR agents. McCleary served under Chairman John Mekalanos on the board of advisors for the Microbiology Department of Harvard Medical School. He is a managing partner of Four Seasons Ventures and a co-founder of Keep Our Republic.
Mark Medish served at The White House as a Special Assistant to President Clinton and Senior Director for Russian, Ukrainian and Eurasian Affairs on the National Security Council. Prior to that, he served as U.S. Treasury Deputy Assistant Secretary for International Affairs under Lawrence Summers and Robert Rubin. He also worked as a Special Assistant at USAID/State Department and as a Special Advisor at UNDP in New York.
Early in his career, Medish worked on Capitol Hill as a junior staffer for Senator Edward M. Kennedy and as pro bono counsel to Representative Eleanor Holmes Norton. Medish's professional experience as a lawyer, policy expert and strategic adviser includes leading the sovereign advisory and debt restructuring practices and as clerk with Judge John M. Steadman on the D.C. Court of Appeals, serving as president of The Messina Group, and of Guggenheim International, LLC.
He is vice chair of Project Associates, Ltd.,headquartered in London, with offices in Paris, Brussels, Berlin, New York, and Washington, is a founding partner of The Mosaiq Law Group, a member of the Council on Foreign Relations,
and he serves on several corporate and non-profit advisory boards including the Georgetown University Institute for the Study of Diplomacy and the Institut für die Wissenschaften von Menschen, and is a co-founder of Keep Our Republic.
Kathleen Rice is a lawyer from New York. She served as District Attorney of Nassau County from 2006 to 2015 and in the U.S. House of Representatives from 2015 to 2023. She was an active member of the Homeland Security Committee. Earlier in her career, she was an Assistant United States Attorney in Philadelphia.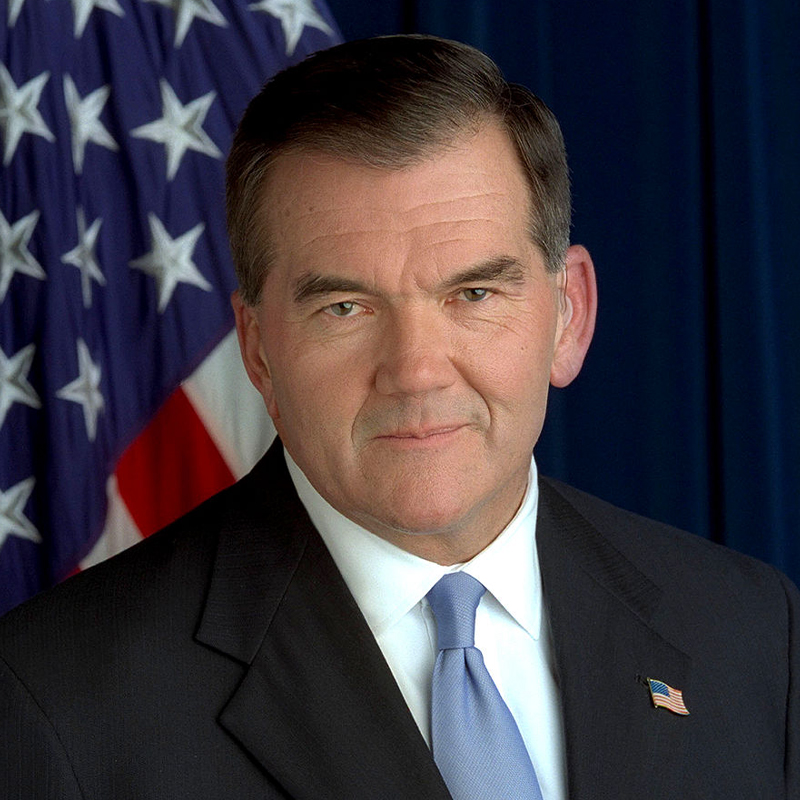 Tom Ridge served as the nation's first Assistant to the President for Homeland Security from October 2001 through December 2002 and first Secretary of the U.S. Department of Homeland Security from January 2003 through January 2005. Previously, he was governor of the Commonwealth of Pennsylvania from 1995 through October 2001 and a member of the U.S. House of Representatives from 1983 through 1995. Ridge is president and CEO of Ridge Global, an international security and risk management firm headquartered in Washington, DC.
José de Jesús Rivera is a former United States Attorney for the District of Arizona. He has been the managing partner in the Phoenix office of Miller, Pitt, Feldman & McAnally, P.C. Jose's areas of practice include among other topics election law. He has represented the State of Arizona and multiple local governments in redistricting and election related cases.
Tom Rogers is a Media and Technology Executive, the first President of NBC Cable, founder CNBC and MSNBC, and the longest serving and former President and CEO of TiVo. He is the former Chairman and CEO of PRIMEDIA Inc. and former senior counsel to the U.S. House of Representatives Telecommunications, Consumer Protection and Finance Subcommittee. Currently, he is the Executive Chairman of Engine Media, and Editor-at-Large of Newsweek.
David E. Skaggs is an American lawyer, politician and educator from Colorado. He served in the U.S. House of Representatives from 1987 to 1999 and the Colorado House from 1981-1987. He was founding board Chair of the U.S. House's Office of Congressional Ethics, on which he served from 2008 to 2021. Skaggs is a Vice Chairman of the National Endowment for Democracy (NED) board. He spent three years on active duty in the Marine Corps, including service in Vietnam with the 1st Marine Division.
Chloe Squires advises political campaigns and nonprofits on fundraising and public relations strategies. She is a member of the board of Hôpital Albert Schweitzer, Haiti and Piedmont Environmental Council.
Nicole Watson works with nonprofits and startups on growth and fundraising strategies. She previously worked with a membership of Fortune 500 finance officers, researching, and disseminating corporate best practices. Prior roles included investor relations and corporate communications in the hospitality and airline industries.
Jonathan Winer served as U.S. Special Envoy for Libya, deputy assistant secretary of state for International Law Enforcement, and counsel to U.S. Senator John Kerry. Expert on US Middle East policy, counterterrorism, international money laundering, illicit networks, corruption, and U.S.-Russia issues. In 2016, Winer received the highest departmental award granted by the Secretary of State, for "extraordinary service to the U.S. government."
Timothy E. Wirth served for 18 years in the United States Congress, representing Colorado's 2nd Congressional District from 1975 to 1987, and as Senator from Colorado from 1987 to 1993. He was Deputy Assistant Secretary of Education in the Nixon Administration, Undersecretary of State for Global Affairs under President Clinton, was the founding President of the United Nations Foundation and currently sits on the UNF Board. He is a co-founder of Keep Our Republic.
Isabelle Frances Wright is the founder and Executive Director of Vote For Freedom, an organization that seeks to protect election integrity globally by conducting novel research and analysis on the impact of technology on election integrity, capacity building for campaigns in emerging democracies, and support for global pro-democratic voices. Previously,Wright was Global Head of Election Integrity Policy at Tiktok, where she developed policies to combat Election Misinformation, Coordinated Inauthentic Behavior and Synthetic Media. Prior to her work at Tiktok, Wright was Digital and Technology Director at The Messina Group, working on Electoral, Legislative and Advocacy campaigns both domestically and internationally. Wright currently serves as a director at the global strategic advisory firm PA Group.
Jim Brown served for nine years as Chief of Staff for U.S. Senator Robert P. Casey, Jr. of Pennsylvania and, before that, was a partner at SCP Partners, a family of venture capital funds. Prior to his work at SCP, he was Chief of Staff to Pennsylvania Governor Robert P. Casey, Pennsylvania Secretary of General Services and a partner in the Philadelphia law firm, Dilworth, Paxson.
He recently served on the education group of President Biden's Transition Team and was a member of the Blue Ribbon Commission on Pennsylvania's Election Security at the University of Pittsburgh.
Bob Cindrich was appointed by President Bill Clinton and unanimously confirmed by the Senate to serve as District Judge for the United States District Court for the Western District of Pennsylvania.
Previously, he served in the Army Reserve, worked as both a Public Defender and Assistant District Attorney in Allegheny County. From 1978 to 1991, he was US Attorney for the Western District of Pennsylvania.
He retired from the bench to serve as Chief Legal Counsel to University of Pittsburgh Medical Center.
Tom Corbett is executive in residence at Duquesne University School of Law. The former governor most recently served as an adjunct professor at the law school.
As the commonwealth's 46th governor, Corbett held Pennsylvania's highest office from January 18, 2011 through January 20, 2015. Corbett has a long and distinguished career serving citizens as assistant U.S. attorney, U.S. attorney, chair of the Pennsylvania Commission on Crime and Delinquency, Pennsylvania attorney general, and governor. Corbett has also served as a key advisor to U.S. presidents and governors.
Corbett served as a member of the Pennsylvania National Guard 28th Infantry Division from 1971 until 1984, rising from private to captain.
Ken Davis got his government and political start with Pennsylvania Senator Hugh Scott as his Chief of Staff. Following Scott's retirement, Ken was named Chief Lobbyist for Philadelphia's Rohm and Haas Company, a Fortune 200 multinational chemical company. After seventeen years in Washington, Ken founded his own government relations firm, which subsequently merged with the Duane Morris law firm in Philadelphia. Ken was a Republican until January 6, 2021 at which time he re-registered No Party. Prior to that he had been President of the Lower Merion Township Board of Commissioners and Chairman of the Montgomery County Republican Party.
Charlie Dent served seven terms in Congress. He was co-chair of the Tuesday Group, a caucus of more than 50 center-right Republicans and a founding member of the Problem Solvers Caucus. Before his time in the U.S. House of Representatives, Congressman Dent served for six years in the Pennsylvania State Senate and eight years in the Pennsylvania House of Representatives.
Congressman Dent is Executive Director and Vice President of the Aspen Institute Congressional Program, where he leads bipartisan, bicameral policy education programs for sitting members of Congress. Dent also serves as a Senior Policy Advisor to DLA Piper where he provides strategic advice and counsel to clients on a variety of public policy issues.
Amanda Green-Hawkins served as a Councilmember on Allegheny County Council (2008-2015) where she represented 100,000 Pittsburgh residents, and led the passage of Countywide legislation that prohibits discrimination based on gender identity or expression. In 2019, she was the PA Democratic nominee for Superior Court judge.
Green-Hawkins is a voter-protection attorney and recently served on the Lawyers Steering Committee for the PA Democratic Party. She has received numerous awards for her leadership in politics and in the community, and was appointed to Pittsburgh's Community Task Force on Police Reform. An alumna of Duke University and Northeastern University School of Law, she is an Adjunct Professor teaching Labor Law in her most recent endeavor to pay it forward.
David Hickton is the founding director of the University of Pittsburgh Institute for Cyber Law, Policy, and Security. Previously, he served United States Attorney for the Western District of Pennsylvania after being confirmed by the US Senate in August 2010. Earlier in his career, President Bill Clinton requested that he serve on the President's Advisory Committee on the Arts for the John F. Kennedy Center for the Performing Arts at the request of then-President Bill Clinton.
John Jones serves as the 30th President of Dickinson College in Carlisle, Pennsylvania. He retired as chief judge of the U.S. Middle District Court of Pennsylvania. He was appointed by President George W. Bush and unanimously confirmed by the Senate. Before becoming a federal judge, Jones was a lawyer in private practice in his hometown of Pottsville, Pa.
In November 1994, then Governor-elect Tom Ridge named Jones as a co-chair of his transition team. In May 1995, Ridge nominated Jones to serve as chairman of the Pennsylvania Liquor Control Board.
Timothy Lewis served on the U.S. Court of Appeals for the Third Circuit. He was serving on the U.S. District Court for the Western District of Pennsylvania when President George H. W. Bush elevated him to the Court of Appeals in 1992. At the time of both appointments, he was the youngest federal judge in the United States. Before being appointed to the federal bench, Judge Lewis served as an Assistant U.S. Attorney for the Western District of Pennsylvania and as an Assistant District Attorney in Allegheny County, Pennsylvania.
Judge Lewis co-chairs the Schnader law firm's ADR Practice Group; he serves as a mediator, arbitrator and settlement counselor.
Joseph Sabino Mistick is an associate professor at Duquesne University Kline School of Law, where he currently teaches Criminal Law, Election Law, Land Use Law and Law, Public Policy and the Executive Branch, and directs the Urban Development Law Clinic. He has served as Chief of Staff to the Mayor of Pittsburgh, He was an elected member of East McKeesport borough council and municipal secretary of Braddock Borough.
Sandra Schultz Newman served for ten years as the first female justice of the Pennsylvania Supreme Court. Prior to her term, Justice Newman was a judge for the Commonwealth Court of Pennsylvania and a practicing attorney in private practice, and also served as the first female assistant district attorney in the Montgomery County District Attorney's office.
Fred Thieman was the United States Attorney for the Western District of Pennsylvania. Appointed by then-President Clinton, he served in the post from 1993 to 1997, where he headed an office of 42 attorneys who both prosecuted criminal violations throughout Western Pennsylvania and handled civil litigation ranging from health care issues and tort liability to employment rights and environmental impact. Thieman was instrumental in establishing a youth crime prevention effort in Allegheny County that garnered national attention.
He has served on numerous nonprofit and foundation boards, including The Heinz Endowments and The Buhl Foundation and is the recipient of numerous civic leadership awards from organizations such as the University of Pittsburgh, the Urban League of Greater Pittsburgh and the Mentoring Partnership of Southwestern Pennsylvania.
Velma Redmond is the retired Division General Counsel of American Water. She was formerly Chief Counsel for the Pennsylvania Department of State, Chief Counsel to the Pennsylvania Independent Regulatory Review Commission and Assistant Attorney General in the Pennsylvania Department of Justice.
Redmond was Chairman of the Board of Managers of Milton Hershey School, was Chairman of the Board of Hershey Trust Company and played a key role in Pennsylvania infrastructure upgrading and development.
David Thornburgh is a nationally recognized "civic entrepreneur" who throughout his career has created and led high impact initiatives to promote economic development and good government in Pennsylvania.
He is Senior Advisor to the Committee of Seventy and Chair of Ballot PA, an initiative of the organization that aims to repeal closed primaries in Pennsylvania and allow the state's 1.1 million independent voters to vote in every election. He is also a Professor of Practice in Temple University's Master of Public Policy program and an Adjunct Instructor at Franklin and Marshall College.
Tom Vanaskie served on the United States Court of Appeals for the Third Circuit and Chief Judge of the United States District Court for the Middle District of Pennsylvania. He is a member of Stevens & Lee's Litigation Department and chairs the firm's Appellate and Mediation, Neutral Services and Alternative Dispute Resolution practice groups.
In May of 2021, he was appointed by the President of the Pennsylvania Bar Association to serve as chair of a statewide task force to study the impact of the COVID-19 pandemic on the delivery of legal services and to make recommendations to mitigate the disruption of services resulting from future catastrophes. The task force generated a comprehensive report that will serve as the foundation for enhancing the use of technology to assure that legal services will be delivered despite widespread disasters
Ann Womble lives in Lancaster PA. She served as Chair of the Republican Committee of Lancaster County and was a delegate to the 2012 Republican National Convention. She worked on Capitol Hill for a Republican member of Congress during the administrations of Ronald Reagan and George H.W. Bush.
Tracey Brame is the Associate Dean of Experiential and Practice Preparation and the Director of the WMU-Cooley Innocence Project, and she is the Immediate Past President of the Grand Rapids Bar Association. 
Professor Brame has a history of service to the community through public defender work in the District of Columbia, with the Federal Defender Office, and the State Appellate Defender Office in Detroit, as well as at Legal Aid of Western Michigan. Professor Brame started the Access to Justice Clinic at the Grand Rapids campus in 2006, overseeing it and the West Michigan Public Defender Clinic, and ran the Access to Justice Clinic in Grand Rapids.
She began her legal career as a law clerk to the Hon. Julian Abele Cook, Jr. in the U.S. District Court in the Eastern District of Michigan after death penalty litigation experience as an extern with the Alabama Capital Resource Center, helping prepare an argument before the U.S. Supreme Court, and she drafted racial justice legislation for the state of Alabama. Professor Brame taught constitutional law courses, and has served as an adjunct professor at Grand Rapids Community College.
Ken Cockrel is an American journalist, nonprofit executive, businessman, and former elected official who served on the Detroit City Council for 16 years including one term as Council President, and was the 73rd mayor of Detroit from September 2008 to May 2009. Prior to his city work, Cockrel served as an elected member of the Wayne County Commission for three years representing Detroit's Southwest Side.
He has also served previously as the director of several non-profit organizations including the Urban Linkage Program at Wayne State University, Detroit Future City, and most recently habitat for Humanity Detroit. Cockrel is the Founder and Principal of Kenneth Cockrel Jr. Consulting Inc, a strategic consulting firm specializing in government relations, communications, strategic partnership, and fund development and lives in Detroit, Michigan.
Brandon Dillon has over 20 years of success in public policy and political advocacy. A West Michigan native, Dillon served as Chair of the Michigan Democratic Party from 2015-2019 and led the party to historic wins up and down the ballot in 2018. In 2010, Dillon was elected to three terms as a State Representative from Grand Rapids, where he served on the Appropriations Committee, specializing in health care, education and regulatory issues.
Prior to his experience as a legislator, Dillon served two terms as a Kent County Commissioner, and worked as Chief of Staff for a Michigan State Senator. Dillon began his professional career with an award winning direct mail firm, working with campaigns at the local, state and national level.
Mary Hollinrake began working for Michigan's Kent County Clerk Terri Lynn Land in 1995, serving as the leader of the Circuit Court Clerk's Office. Promoted to Chief Deputy County Clerk in 2000, Hollinrake ran for Kent County Clerk later that year, a position she won and was re-elected to three times, retiring at the end of her fourth term at the end of 2016.
Jerry Kooiman has been engaged in public policy and elective office at the local, state and federal levels of government for the past nearly four decades. Kooiman served on the staff of two members of Congress from Michigan for 16 years, served as a Kent County Commissioner for six years and was a member of the State House of Representatives for six years. While in the Michigan House of Representatives, Kooiman served as a member of the House Committee on Appropriations and rose to Speaker Pro Tempore of the House from 2005 until 2007. He continues to be engaged in health and human services policy in his work and appointed roles.
Bridget Mary McCormack served on the Michigan Supreme Court from 2013 - 2022 and was the Chief Justice from 2019 - 2022. Prior to her service on the Michigan Supreme Court, McCormack worked as a staff attorney with the Office of the Appellate Defender and was a senior trial attorney with the Criminal Defense Division of the Legal Aid Society, both in New York City. She was a Cover Fellow at Yale Law School and taught in Yale's clinical programs, then served as associate dean for clinical affairs, and clinical professor of law at the University of Michigan Law School, founding the Michigan Innocence Clinic in 2008. McCormack also taught in the Michigan Clinical Law Program, a domestic violence clinic, and a pediatric advocacy clinic at the Law School.
McCormack was elected to The American Law Institute in 2013. The U.S. Attorney General appointed her to the National Commission on Forensic Science in 2014. In 2019, Michigan's governor named her co-chair of the Joint Task Force on Jail and Pretrial Incarceration. In 2020, she joined the American Bar Association's Council on Legal Education and Admission to the Bar and currently serves as vice chair. In 2021, the governor asked her to co-chair the Michigan Task Force on Forensic Science and to chair the Michigan Jail Reform Advisory Council, and McCormack was appointed to serve nationally on The Council of State Governments Healthy States National Task Force and the ABA Center for Innovation's Governing Council. Justice McCormack also chaired the Michigan Judicial Council and was named chair of the ABA Board of Elections. She now is president and CEO of the American Arbitration Association-International Centre for Dispute Resolution.
Dr. Joe Schwarz represented Michigan's 7th district in the U.S. House of Representatives from 2005 to 2007. Previously, he was a city commissioner then served as mayor of Battle Creek from 1979 until 1986. He was in the Michigan Senate from 1987 until 2002, serving as President Pro Tempore of the Senate from 1993 until 2002.
Dr. Schwarz served in Southeast Asia for five years, first with the U.S. Navy in Vietnam and as an assistant naval attaché in Indonesia, then with the Central Intelligence Agency in Laos and in Vietnam. Dr. Schwarz has been in private otolaryngology practice in Battle Creek, Michigan for over 40 years, and has served on federal and state panels by appointment, as well as numerous boards and commissions. He currently serves as a Lecturer in Public Policy at the University of Michigan Ford School and on the board of directors for Voters Not Politicians.
Anne is President of Mervenne & Company, a public affairs consulting firm that she
founded after 20 years in state government. She began her tenure as a staffer in the state legislature and concluded her service as Special Advisor to Governor John Engler.
Mervenne is a Co-Director Emeritus for the Michigan Political Leadership Program. She serves on the Board of Directors of Blue Cross & Blue Shield of Michigan and chairs the Enterprise Risk committee, is the first female chair of the Detroit Public Safety Foundation which supports Detroit's first responders and has been appointed by four Michigan governors to bi-partisan policy-making boards.
Michael B. Staebler is a native of Ann Arbor, Michigan. He practiced law in Detroit, Michigan and Washington D.C. for 47 years before his retirement in 2016. During the last 35 years of Mike's legal career he was a partner in the Philadelphia based national firm of Pepper Hamilton LLP. He served on numerous state and local economic development boards as well as on the board of directors of six privately held corporations and the executive committee of his national law firm. Mike has served on advisory boards of six units of the University of Michigan and is currently serving on three of them. He has been an officer and/or director on a wide variety of civic and charitable organizations and he has helped manage and been actively involved in political campaigns throughout his life and recently played a role in three successful ballot initiatives to amend the Michigan Constitution.
Buzz Thomas knows how to build winning relationships and break down barriers. Having spent 14 years in the Michigan Legislature, Buzz has been recognized by his peers as a leader. He served as the Democratic floor leader in the Michigan Senate and the Democratic leader in the Michigan House of Representatives. Buzz serves on the boards of the Detroit Institute of Arts and The Gerald R. Ford Presidential Foundation.
Dave Trott represented Michigan in the 11th district from 2015 to 2019. He was the chairman and CEO of Trott & Trott PC, which represents banks and lenders in homeowner foreclosure and bankruptcy litigation. Dave has served on the boards of the University of Michigan, On My Own, the Detroit Country Day School, The Community House, and the Karmanos Cancer Institute. In 2017 he announced that he would retire from Congress.
Chris Trebilcock is an attorney who represents clients in the Detroit, Michigan area, recognized by peers and selected to Rising Stars for 2008 - 2009, 2011 - 2014. Trebilcock litigates labor and employment disputes in federal and state courts and administrative agencies across the country on behalf of Fortune 500 companies, medium and small employers, including governmental agencies. He has worked in the U.S. Department of Labor's national office and routinely advises candidates, elected officials, political action committees, and ballot question committees on all matters involving campaign finance, ballot access, recounts, and other election law issues.
David Bowen served in the Wisconsin State Assembly from 2015 through 2022. He previously served on the Milwaukee County Board of Supervisors, as one its youngest representatives and on the Medical College of Wisconsin's Violence Prevention Initiative Steering Committee. Bowen was born in Milwaukee and is the son of Jamaican immigrants.
Joseph J. Czarnezki was born and raised in Milwaukee. Joseph served as a Wisconsin State Legislator from 1981-1993. He also served 8 years as the County Clerk of Milwaukee County as well as various positions with the City of Milwaukee. Joe has extensive experience in public administration and has published articles in journals and newsletters sharing his knowledge and expertise.
Mike Huebsch was the Wisconsin State Assembly's 76th Speaker. He served in the Assembly from 1995-2011. In 2011 he was appointed as the 15th secretary of the Wisconsin Department of Administration in the cabinet of Governor Scott Walker. Mike was appointed to the Public Service Commission in 2015 and served in that capacity until 2020. Currently, Mike is President of Huebsch Consulting Group llc.
Lee, a native of La Crosse, is the Executive Director of LeaderEthics-Wisconsin. He served as President of Western Technical College from 1989 to 2017. Throughout his career, he has actively promoted leadership development, continuous improvement, economic development and sustainability at the national, statewide and local levels. He has written extensively and given numerous presentations on these topics.
Kevin Reilly served as President of the University of Wisconsin System from 2004-2013, and as Chancellor of UW-Extension from 2000-2004. He is currently Senior Fellow with the Association of Governing Boards of Universities and Colleges. His four grandparents, Irish immigrants, became naturalized American citizens. One of his proudest days was when his two younger children, adopted from Colombia, followed in the footsteps of their great-grandparents and themselves became American citizens.
A lifelong resident of the Fox River Valley, Ribble owned The Ribble Group Inc. in Kaukauna, WI for 35 years, before running for the WI-08 Congressional District. He defeated a Democratic incumbent for that seat in 2010, serving until 2017. Afterward, Congressman Ribble served as CEO for the National Roofing Contractors Association.
Tommy Thompson served as the 42nd Governor of the State of Wisconsin. Tommy was elected to an unprecedented four terms as Governor. He recently served as interim president of the University of Wisconsin from 2020 to 2022. Tommy also served as the US Secretary of Health and Human Services under George W. Bush. He was past chairman of both the Republican Governors Association as well as the National Governors Association. Tommy served as a Wisconsin State Assembly Representative 1966-1987. In total, he has served on over 22 boards and organizations. He served in the Army National Guard and the Army Reserves for a total of ten years earning the rank of Captain.
John W. Vaudreuil served as the United States Attorney for the Western District of Wisconsin from 2010 to 2017. He served as an Assistant US Attorney starting in 1980 and over the years handled thousands of criminal cases. In 2002 he was named the Chief for the Criminal Division for the United States Attorney's Office. He served in that position until his appointment as US Attorney in 2010. He was born in Rice Lake, Barron County.
Dana served in the Wisconsin State Assembly from 2013 to 2019. Prior to his time in the Assembly, Dana served on the Eau Claire City Council from 2009 to 2012. Outside of public service, he has been a lawyer in Eau Claire for over 30 years and among his accomplishments is successfully arguing before the Wisconsin Supreme court for expanded medical malpractice.
David Allen Zien was a campus administrator at Northcentral Technical College prior to being elected to the State Assembly in 1993. He was elected to the Wisconsin State Senate where he served from 1998-2007.
Zien was born in Chippewa Falls, joined the United States Marines and served with Lima Company in Vietnam in 1969. He has been active in veteran issues his entire career.
Kathy Bernier served in the State Senate and State House. In the State Senate, she chaired the Committee on Elections, Election Process Reform and Ethics.
Earlier in her career, she was elected to the position of Chippewa County Clerk. She also chaired the Chippewa County Republican Party. While in the legislature, she was a board member of the National Foundation for Women Legislators.
Nikole Bruns has decades of leadership experience in government, education, and nonprofit settings. From early work in shelters, director roles in detention and after-school programs to more recently leading a 24-hour youth services center through the pandemic, much of her career includes work to improve outcomes for youth and families. Bruns was previously deputy and interim executive director for an office of the City and County of Denver which supported innovative ways to address crime prevention, behavioral health,and the needs of justice-involved citizens, and she managed special projects and strategic planning for Denver Public Schools. Bruns has served as a volunteer lobbyist and on multiple committees and councils working in justice reform, collaborative management, and process improvement across agencies and government bodies.
John Helmholdt served as Executive Director of Communications and External Affairs for Grand Rapids Public Schools for nearly 15 years. He has also worked with the Grand Rapids Area Chamber of Commerce and Republican members of the Michigan State House. In November 2007, 2009, 2010 and 2014, Helmholdt was named among the "Top 40 Under Forty Business Leaders" by the Grand Rapids Business Journal.
Charlie Lyons is a co-owner of Clear Point Communications in Pennsylvania. Prior to joining the firm, he was State Director for U.S. Senator Bob Casey, Jr., where he oversaw the Senator's state operations and served as a senior advisor. He also served as the Senator's transition director, managing the startup of his senate office. His prior government experience includes service as a senior aide to the Governor of Pennsylvania, where he served as policy director, executive assistant, and ultimately, chief of staff to the Governor. Lyons has been a consultant to state and local governments, foundations, nonprofit organizations, and businesses throughout the country. Early in his career, he was an attorney with the U.S. Department of Justice in Washington. He has also staffed or consulted with numerous statewide and congressional campaigns.
Kasi Meyer is a public relations and strategic communications expert in Grand Rapids, Michigan. She is originally from Southwest Michigan and is a graduate of Grand Valley State University in Allendale.
Molly is a seasoned communications operative at the crossroads of news and politics. Earlier in her career, she led communications at Axios, a fast-paced media startup. She is a graduate of Georgetown University and lives in Washington, DC.
Deon Norris has over a decade of experience in assisting a diverse range of clients from the U.S. Government and Fortune 500 companies to individuals, small businesses, and nonprofit organizations. His expertise encompasses accounting, audit, internal controls, process improvement, and tax-related matters, as well as project management experience and oversight of budgets over $30 billion, forging and executing pivotal financial strategies, and cultivating significant relationships with key stakeholders.
Norris has been selected as a "Power Player" and recognized as the "Best
CPA in Washington D.C."by DC Magazine. Norris is a proud U.S. Army Paratrooper Veteran, and was comptroller of a special forces battalion. He continues to be a staunch supporter of veterans, first responders, and teacher services. Norris has a Master's in marketing, an MBA, holds active CPA licenses in the states of Maryland and Virginia, as well as a certification as a Project Management Professional (PMP).
Anthony Trombi is a professional communicator with expertise in Wisconsin politics and state news. He has worked with WisPolitics and various Madison media outlets. Trombi is a University of Wisconsin-Madison graduate and lives in Madison, Wisconsin.